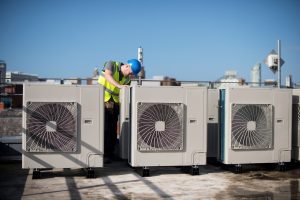 We've reached the end of air conditioning season here in Louisiana, but with our mild winters, you can never be sure when you might need yours to function again. The cool days of late fall and early winter make an excellent time to take stock of your system and schedule repairs if necessary. The same holds true for commercial air conditioning systems, which have more complex needs than residential systems and which need a high-quality service to keep them maintained. Reliability in such services is supremely important for the health of your business.
More than Just a Residential System
Residential systems usually don't have to cover the size that most commercial HVAC systems do.  Besides additional square footage and the reality of multiple stories in many office buildings, commercial systems need to account for specific needs of the company. That could mean maintaining specific temperatures in specific areas, as well as addressing the cooling needs of key company components such as computer systems (which can easily overheat during warm days). It could mean different temperatures in different sections of the building, especially thought with multiple tenants (each with their own unique needs.) And it could mean changing the system on a moment's notice in order to accommodate an expanding business or a new occupant of the space. (Many commercial systems use modular units, which can be added and removed to add or subtract power to the system, in order to accommodate the needs of new occupants to the space or changes required by existing occupants.)
Most importantly, the system needs to maintain a comfortable and pleasant environment no matter what the weather is like outside. That not only allows employees to be happy in their work (and work productively), but it gives visiting customers and potential business partners a good impression of the space (and thus the business as a whole). That makes it a vital part of your business's health, which means that when you need repairs, you need to trust the team you contact to do the job right.
What to Look for
Different HVAC companies offer varying levels of service, and the one that's right for you depends on the specific needs of your company. In general, however, there are a few things you should look for when it comes to reliable service:
Emergency Services. You need repairs conducted fast in a commercial setting and sometimes that means working after hours to get the job done. Emergency services also let the repair technicians work without interrupting your employees and customers.
Affiliations. Good word of mouth is always a positive sign for commercial HVAC services. In addition, look for endorsements from groups like Angie's List, the Better Business Bureau and NATE (North American Technician Excellence), which tests repair technicians in this field.
Guarantees. If you run a business or manage an office space, you can't afford to waste time with repair services that can't do the job the first time. Look for companies that offer estimates up front, and guarantees that the work will be done to your satisfaction.
For quality commercial HVAC installation and repairs throughout LaPlace, LA, call Professional Heating & Air today!