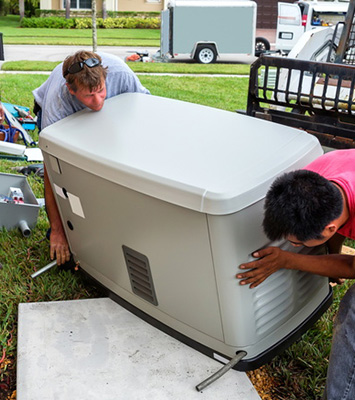 With the onslaught of thunderstorms coming this week and for the rest of the season, we're definitely going to see an increase in generator purchases. With the climate changing, we've seen weather-related power outages double since 2003 and they're only getting more severe. You're lucky you've got your portable generator in the garage in case you lose power this season, right?
Well, you might not be as lucky as you think. Portable generators are meant for worksites, campsites, tailgating, and other—less power-intensive—energy needs. If you're looking to power your whole house for a few days, including air conditioning, from the convenience of your smartphone, then you're going to want to upgrade to a whole-house generator.
Is It Worth It?
This is the age-old question. If you've already got a portable generator that can power the necessities like your stove, a couple of lights, and your refrigerator, why bother upgrading? After all, a backup generator is only for emergencies… right? Sure, if you're okay with hunkering down without your microwave, phone, computer, air conditioning, or the multitude of other 21st century appliances you own. Though, science would like to have a word with you.
87% of power outages are caused by severe weather storms. Earlier we mentioned that weather-related power outages are on the rise, as well as the number of people affected by power outages. The fact of the matter is that severe storms are becoming more frequent, more powerful, and more expensive. Since Covington, LA is often affected by some of the roughest storms, it would be pretty silly not to foresee these outages affecting you in the future.
What's the Difference?
Good question! Portable generators, as most people know, run on gasoline or diesel. They require no installation (they can sit anywhere) and must be operated far away from your home because they're very loud and release a ton of carbon monoxide. Not only that, but you have to manually switch it on when the power runs out- which can sometimes be impossible if you're not home. That sounds like a perfect recipe for spoiled or rotten food!
A whole-house generator switches on automatically when the power outage occurs. It has a self-feeding fuel system that runs on either propane or natural gas, and as we've mentioned before, can power all the appliances in your home. Many brands of whole-house generators can also be operated via smartphone when you're not home, to ensure that your food doesn't spoil and your HVAC keeps running smoothly.
So, truth be told, there's an enormous difference between the two systems. Thankfully, we also provide generator maintenance and repairs for faulty systems and can even install portable generators if a whole-home unit is way out of your budget. We know how important a fair price is, and we're concerned about informing you for when the time comes to discuss your generator options.
For generator repair in Covington, LA, make sure to contact us today. When you need it done right, call Professional Heating & Air.