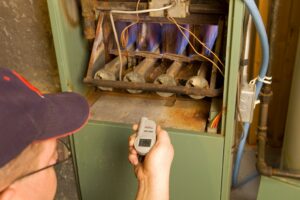 Heating contractors are all over the place these days. With the advent of the internet in the last 20 years and the disappearance of the phonebook, it's become easier than ever to find a contractor in your area. While this might sound like a good thing, it's both good and bad.
The good news is that you found our blog! You'll also find our service pages through a series of links and you'll be happy you did. The bad news is that other companies are getting attention as well, with nifty websites and cool designs and some of them might not have the best business practices.
We're all about getting a job done right when it comes to HVAC in Covington, LA. Here are seven tips that can help you choose the right contractor when inundated with all of this information.
1. Customer Service
We know that there's a stereotype of good HVAC pros being a pain to work with, but that's not really true anymore. There are plenty of HVAC professionals, like the ones on our team, that see themselves as neighbors and community members. We're stewards of this community and we love getting to know everyone we work with. (And it shows if you look at our reviews!)
2. Knowledgeable and Passionate
You should be worried if your HVAC pro doesn't like to talk about the technology or equipment they're using. The only pros that are worth the money are the ones that are knowledgeable about the field and passionate when it comes to making customers happy. Seriously, look for the HVAC nerds that will really tell you about the condition your system is in! They're more likely to be honest and find the root of your unit's problem.
3. Expertise
You don't want amateurs working on your heater or air conditioner. You want an expert. There are many ways to tell how much expertise an HVAC pro has, but one of the ways is just to ask them! HVAC experts have been thoroughly trained on these systems and will show you when you ask.
4. Experience
You might find a great HVAC professional, but if you're their first customer ever, you're in for some trouble. When it comes to repairing or installing a heater or air conditioner, every home is going to be different. Technicians need to be experienced in this field and in the equipment they're using so they can come up with creative solutions that work for your home. Go ahead and ask about what kinds of experience they have.
5. Licenses and Certifications
This is an easy one. Don't ever choose a professional HVAC team that isn't licensed and certified to work on your system. You could end up voiding your warranty and paying a lot of money down the line to have a problem they caused to be fixed.
6. Deals and Promotions
What kinds of deals are they offering? Are you going to save money? How is their maintenance plan? Do some shopping. If you think you're really getting a good deal, then that's great! If you think you're paying too much, then that's not good. Find the team that's worth the price and has an incentive to help you save.
7. Reviews!
What do customers say about this contractor? Reviews are a great way to find out what the community really thinks about the staff.
When you need it done right, call Professional Heating & Air.