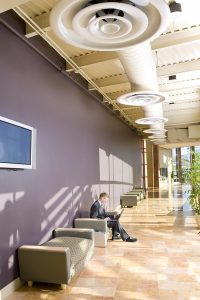 So you're a business owner, and you need HVAC services for your property. Can it really be all that different than the type of services a homeowner would receive?
We're basically dealing with the same services and products, but when you add more people into the mix (like employees and customers), that's when the normal residential HVAC equipment won't cut it. We'll go through some of your HVAC options you'll need to consider as a business owner.
Air Conditioning
Your average home only accounts for a family of people, but imagine trying to cool a space with hundreds of people in it. Commercial buildings require more cooling power simply due to all the heat generated by additional bodies.
The best option for commercial buildings, then, are packaged air conditioners. Growing and expanding businesses might fluctuate in the amount of cooling power required, so packaged units are the perfect solution. That's because you can upgrade them simply by connecting more units! At the same time, you can easily reduce power by disconnecting units.
The only reason you might want something other than a packaged unit is if your commercial property is, let's say, housed in a small boutique with very few employees. In general, it's best to consult with a commercial HVAC contractor in Mandeville, LA for advice on what the most cost-effective installation will be for your business.
Refrigeration
Essential for businesses in the food industry. Whether you need a new refrigerator for your convenience store or a walk-in freezer for your restaurant, you'll need the help of an expert.
Standard reach-in refrigerators are perfect for break rooms and when you want to offer bottled drinks out on the customer floor. When it comes to storing ingredients or drinks that your business serves, you'll need a walk-in cooler to hold it all.
As for walk-in freezers, it's more than just a big icebox. You need to ensure that what you're storing doesn't get freezer burn and that it's set up to accommodate space properly. For example, storing meat and storing tubs of ice cream are two entirely different walk-in freezer configurations.
Indoor Air Quality Products
Beyond air conditioning and refrigeration, what people often forget about is indoor air quality. Yet, maintaining indoor air quality is essential for your business's productivity.
For example, let's talk about excessive humidity. Although air conditioning can naturally lower some of the humidity, it's not always effective, so you might need a dehumidifier. There's no better feeling than escaping the hot, muggy air by walking into a nice and air-conditioned building. Your employees will thank you, and it might give your customers one more reason to return.
Indoor air quality isn't just about that immediate feeling of comfort, though. It's also about lowering the number of contaminants in the air so that your customers and employees can breathe easy—especially your employees, who will be exposed to these contaminants on a near-daily basis. Various air filters and purifiers exist to help rid the air of chemicals, particles, and even living organisms that cause illness.
Is it time to set your business up with some HVAC services? When you need it done right, contact Professional Heating & Air!