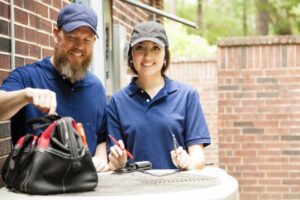 It's never a good feeling when you realize you need air conditioning repair in Mandeville. Although you know you can always count on us to fix your AC promptly and efficiently, you might be wondering how your AC broke down in the first place.
We like to inform our customers of all the ways they can avoid seeing us and that includes how to avoid AC repairs. The first thing we recommend is getting annual AC maintenance. In fact, 70% of the AC repairs we perform are on air conditioners that haven't received this important service.
Let's go over the things you can to do try and avoid AC repairs.
Schedule Annual AC Maintenance
Regular maintenance is one of the most essential services we provide. When your AC receives our regular 82-point system evaluation each year, you'll enjoy these benefits:
Longer AC system life
Fewer repairs
Higher energy efficiency and reduced utility bills
Improved cooling capacity for the best home comfort
Reduced chance of an emergency breakdown and lapse in service
Protection for equipment warranty
Also, if your air conditioner is under a warranty, maintenance is one of the requirements to keep the warranty intact.
Change the Air Filter Regularly
This is something that homeowners can do on their own that really decreases the likelihood of an unexpected AC repair. Your air conditioner's air filter has an important job. It keeps dust and dirt from reaching the internal parts of your air conditioner. 
Just like with any piece of complex machinery, its parts need to be free of dust, dirt, and debris to work most effectively. If you don't change the filter every 1-3 months as recommended, you run the risk of having your air conditioner's internal parts become dirty and ineffective. 
A dirty air filter also decreases the airflow so that your air conditioner will struggle to do its job while its performance suffers. If you're not sure how to change your air filter, give us a call or ask us on a maintenance visit.
Know the Sounds and Signs of an AC on the Decline
Getting a jump on potential repairs is the best way to keep them from becoming major problems. That's why it's important to know the signs and sounds that your AC is starting to struggle.
You should always be on the "listen" for unusual sounds and noises. These could include hissing, bubbling, shrieking, the sound of metal on metal, or any noise that isn't one you usually hear. The only sound you should hear from your AC is the sound of cold air blowing from the vents and the sound of it turning on and off.
Short cycling is an issue that you should call us about right away. This occurs when your air conditioner turns on for a short amount of time and then turns off without completing the cooling cycle. Not only does this result in your home not getting cooled down, but it results in tremendous wear and tear on your system as startup is what takes the most energy.
Don't run the risk of being without AC when you need it most! Schedule AC maintenance with us today.
When you need it done right contact Professional Heating & Air.