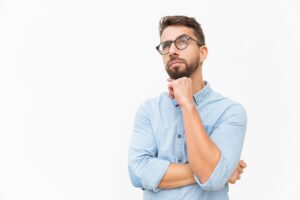 Knowing when to call for emergency AC repair might seem like an easy thing to recognize, but it can be more nuanced than that. For example, an air conditioner that won't turn on at all on a scorching hot day can be a safety issue for you and your family and it should be treated as an emergency. 
But what about if the AC isn't working very well on a day with mild temperatures? It gets a bit tricky, doesn't it? The question we're trying to answer here is exactly how urgent is the need for an emergency repair. Let's go over the parameters that definitely warrant a call for emergency repairs.
Try This First
There are a couple of somewhat alarming issues that you can try to troubleshoot yourself and they all come down to the air filter. Sometimes when we're called out for a repair, we pull out an air filter that is so clogged with dirt and dust, it looks like Pig-Pen from the Peanuts gang.
A clogged air filter can cause your AC to short cycle. This is when your AC isn't able to complete a cooling cycle. You'll hear it turn on, run for a short while, then turn itself back on. You'll notice that your home is warm even though it seems like the AC is running all the time (which it is).
Another issue you might notice is when the evaporator coils ice over. A clogged air filter prohibits the flow of cold air, causing it to build up inside the air conditioner and lower the internal temperature. That buildup of cold air can eventually cause ice to form on the coils.
Try changing the air filter to see if it remedies either of these issues. If the evaporator coils are frozen, let them thaw first (don't try to defrost them with a hair dryer). If the clean filter doesn't help, something else is contributing to the problem.
If It Feels Urgent, Treat It As Urgent
Turning to the internet when you have an issue is a common thing. But the best way to truly assess if you have an urgent AC issue is to go with your gut feeling. You shouldn't have to think too hard about it when it's an urgent situation. Your air conditioner is a system that keeps you safe when it's hot and humid out, and If your home is unbearably hot because the AC isn't working properly, then give us a call.
If the air conditioning system breaks down in the winter with a forecast that calls for continued low temperatures, then schedule a repair during regular hours. If the problem with the AC is that it turns on but it's not emitting cold air, and the forecast calls for a heatwave, you need to call us ASAP.
It's our job to restore your AC service when you need it most. We have a technician on duty 24 hours a day because we know how inconvenient air conditioning problems can be.
When you need it done right contact Professional Heating & Air.