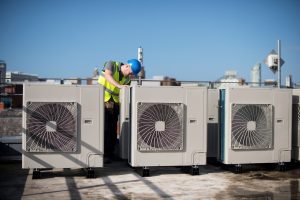 Commercial HVAC services are as important as residential HVAC services here in Louisiana. Our summer days are long and hot, with a high amount of humidity thrown into the mix. It's bad enough when we're home, but most of us spend our days in a commercial space such as an office building or small business site. Commercial HVAC systems may have specific needs that should be met, such as the ability to run industrial refrigerators in restaurants. And if you own a business or manage an office space, you need to move quickly in the event your system runs into trouble.
A number of repair services in the area offer service on commercial HVAC systems. But which one will perform the best for you? Ultimately, only you can answer that question. There are, however, certain things you can look for with a commercial HVAC company to help you find the right services for your needs. We've listed three particular qualities below.
1.     Emergency Services
Not every problem can wait until morning, and when trouble arises with your commercial HVAC system, it's not just a question of sitting tight for a day or two. Warming temperatures can drive your customers away and force you to send your employees home. Even worse, it could damage important components in your business, such as cold foodstuffs (which restaurants need to function) and computer hard drives (which every business needs to function).
That means you need a commercial HVAC company that can respond to emergency calls 24 hours a day, seven days a week. Besides arriving when you need repairs made after hours, such a service can work less dire shifts through the night as well, ensuring that they don't interfere with your employees doing their jobs.
2.     Affiliations
Most quality HVAC services have positive reviews from happy customers, and nothing beats good word of mouth when it comes to sharing positive experiences. The very best commercial HVAC services, however, will have affiliations form sterling third-party organizations like civic Chambers of Commerce and the Better Business Bureau. In particular, look for the purple seal of an organization called NATE, which stands for North American Technician Excellence. This objective organization rates the skills of companies that perform HVAC repair and maintenance. Only the very best earn their seal of approval.
3.     Specialized Service
Every business is different, and thus the needs of yours may differ significantly from the needs of any others. You don't want a commercial HVAC repair service to perform one-size-fits-all operations on your system. You want the service to fix the specific problem for your unique system.
Accordingly, it pays to look for a service that offers specialized commercial repairs. That can include things like walk-in refrigerator and freezer services, for such units in restaurants, and ancillary services like duct cleaning and duct repair.  That ensures that they can address every problem the right way, instead of the generic way.
For a quality commercial HVAC company in Walker, LA, call on the services of Professional Heating & Air today!