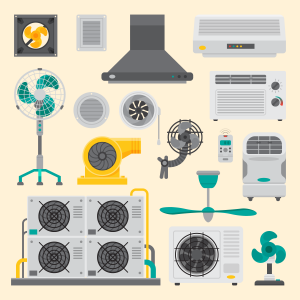 HVAC units come in all shapes and sizes. It's up to us, your friendly neighborhood HVAC specialist to talk to you about the different types of systems.
Is your air conditioner in need of replacement? How about replacing it with a central air conditioner! Is your heater also on its way out? Why not invest in a dual-purpose heat pump? If you're not sure what these terms mean or how to differentiate between the different systems then this post is for you. We're the pros when it comes to HVAC systems in Madisonville, LA and we'd like to talk to you about the different systems, so we can narrow down which one is right for you.
Keep reading and remember to call us when you need help with your HVAC equipment!
The Choice of Heating and Cooling
Why do you need to look at your heating and cooling systems separately? Sure, if you want an air conditioner and a separate heating system like a furnace, then they are going to work independently of one another. However, things like ductwork will be shared by both of them and sometimes you get a better perspective when you think of them both together as your comfort system. Let's look at the different heating and cooling systems and how they can work for you.
Furnaces and Central Air Conditioners
Sometimes it's better to keep things separate. In the case of furnaces and central air conditioners, they're each used for their respective modes. Furnaces are affordable systems that can run on natural gas to heat your home during the winter. Central air conditioners are conventional and highly-affordable cooling systems that can keep your entire home cool during the summer. Solutions like these are simple and effective.
Heat Pumps
What if you want a combined approach? Heat pumps work similarly to central air conditioners with one key difference. They can function in reverse, effectively drawing heat from outside of your home and using it to heat your air. This is wonderful because it means you only have to invest in one solution for both heating and cooling. Doesn't that sound convenient?
Heat pumps still use the ductwork that your old air conditioner or heater used to use, so you don't need to deal with any additional installations.
Ductless Mini Splits
Don't have the ductwork but you want a heating and cooling solution similar to a heat pump? Well, you're in luck! That's why ductless mini splits exist! These systems are heat pumps that work without air ducts. They're actually highly efficient and effective at keeping home temperatures comfortable. They function via individual air handlers which means you can customize your comfort and place them where you'd like them to be the most effective.
Work Together
When you look at your heater or air conditioner and you're wondering about a replacement system, stop thinking of them as separate. There exist systems like heat pumps and ductless mini splits that can keep your home cool all year round. Don't hesitate to call us if you have any questions about the installation of these unique products.
When you need it done right, call Professional Heating & Air.