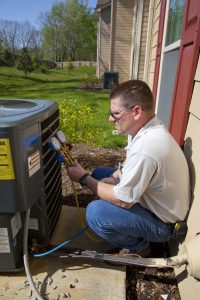 With high temperatures slowly abating and Louisiana coming out from under a devastating hurricane season, now is the time to take a close look at your air conditioner and determine if it needs any repairs. Even in situations where your home was spared the ravages of the weather, most air conditioners have been running for months on end without any sign of respite. That can take its toll and the sooner you address any problems the system may have, the better off you'll be.
Spot the Signs, Then Call a Pro
No one should ever attempt to formally diagnose a problem with their air conditioner, much less repair it. AC units contain potentially dangerous components like refrigerant, which requires a specific skill set to handle safely. Furthermore, seemingly obvious issues – ice on the cooling coils for instance – have complicated solutions and a layman trying to take preventative steps – like scraping the ice off – will only succeed in making the problem worse. (In the cited example, the ice is usually caused by another issue, and scraping it off does little except potentially damage the coils.
That doesn't mean that you can't spot the signs that something is wrong however. Anything that you don't recognize as part of your air conditioner's normal functioning should be cause for concern. When you spot such signs, turn off the system and contact a professional repair service.
Such signs can include, but are not limited to, the following:
Strange noises, which mean any noise you don't associate with the normal operation of the air conditioner. In most cases, the noises will start and stop in time with the starting and the stopping of the air conditioner.
Lower cooling levels, which mean not only warm air, but cool air that's not as cool as you might expect.
Lower air flow, which slows down the process of cooling the air and can damage additional components if you aren't careful.
Higher bills, which reflect a serious problem in the system that hasn't manifested more openly. (The bills rise because the damaged component forces the system to use more energy.)
Maintenance Helps Too
If you haven't had your system serviced in a while and you're not sure if your AC needs repairs, you can also call in a maintenance session from a qualified technician. This lets an expert take a look at your AC and determine if anything is wrong. This is especially recommended for homes that suffered damage from hurricanes or inclement weather. Even if further repairs aren't needed, the session will provide you with peace of mind, as well as correcting little issues that can cut down on wear and tear suffered during the season. That means your air conditioner will be ship-shape and ready to go next spring when you'll have need of it again.
If you spot the signs of trouble with your air conditioning system, call the repair and maintenance specialists at Professional Heating & Air. We handle air conditioning problems throughout the Ponchatoula, LA area!