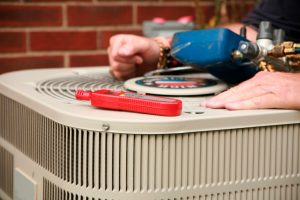 Most people in Louisiana are still assessing the damage caused by the unprecedented weather we've experienced in recent weeks. That comes on top of the arrival of autumn, which usually signals a time to get your air conditioner serviced. Proper servicing is all the more important this year: it keeps your air conditioner functioning, which is vital to maintaining your home's comfort level and the health of your family members. The sooner you can schedule timely air conditioning service, the better off your home will be.
What Is It?
Servicing or maintenance is roughly equivalent to a tune-up on your car. The technician gives the system a thorough going-over and corrects any little issues that may be present: anything from recharging refrigerant to tightening loose bolts and replacing filters. If more extensive damage is encountered, the technician can schedule a formal repair session to deal with it. In many cases, such a session can take place right away, provided the pertinent equipment is in the technician's truck. (This is usually the case for 90% of most air conditioning repair calls.)
Why Is It Important?
In general terms, air conditioning services provide two distinct benefits for your home.
Efficiency. Correcting little issues means that the system will perform more effectively than it might otherwise. That means it will use less energy to do its job and will cost less to run than it might before the maintenance session took place.
Repairs. If more formal repairs are needed, the sooner you can get on them the better. In most cases, catching the issue early allows you to schedule repairs at your leisure, instead of running around in the wake of an unexpected breakdown. In addition, catching such problems sooner rather than later means that the repairs likely won't cost as much since the damage hasn't had as much time to spread.
All of that is particularly important now, as we work to rebuild our homes and communities in the wake of the recent hurricanes. Damaged HVAC systems can be extremely dangerous, and even in the best cases are likely not able to run until you have them checked out by a professional. Even if there's no water damage and all of the systems are intact, the unit will need to be dried, disinfected and thoroughly checked for any damage before you can run it.
Keep the system turned off until you schedule a servicing session. That includes turning off any programmed start and stop times for the thermostat, and even cutting off power to the system by turning the pertinent break switch as well. Clear any debris away from the outside part of the unit and remove puddles of standing water nearby, then dry off the surface. Once that's accomplished, you can contact an HVAC technician and schedule your service.
For top-notch AC servicing, repair and replacement in the Mandeville, LA area, look to the friendly team at Professional Heating & Air to do the job. We're standing by so call us today to make an appointment!