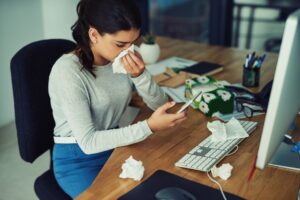 We get a lot of calls from homeowners who read some kind of "debunking" article about air purifiers in Hammond, LA. These kinds of articles, videos, and blog posts are pretty common lately because their primary intent is to open your mind about a certain piece of equipment or technology that you previously thought worked well. While we applaud anyone who looks at scientific articles and other research on their prospective devices, whole-house air purifiers are scientifically proven to work.
Portable air purifiers are tricky because they can sometimes be in over their head trying to purify all of the air in a large room or small home, but whole-home systems are specifically designed to treat the air in your entire house through the HVAC system.
So yes, an air purifier, especially a UV air purifier, definitely works. Keep reading to learn why!
Two Main Types of Air Purifiers
In order for us to talk about the science behind air purification technology, it's important to remember that different systems work in different ways. An air cleaner is a system that uses both air purification technology and an air filter to do a little bit of both and address a whole multitude of indoor air quality issues. However, a UV air purifier works differently, using ultraviolet light to eliminate biological contaminants as they cycle through your air ducts. Let's talk about why you might invest in each system down below.
Air Cleaners
Air cleaners are a type of air purifier and air filter system in one. They use a magnetic field to ionize and attract contaminants of a certain size, bringing them to a filter where they are simply weeded out of your indoor air and collected so they can be wiped clean. These systems are great if you've got air that's both impure and stuffy with dust and debris. An air cleaner will address both with moderate satisfaction.
UV Air Purifiers
UV air purifiers are incredible systems for attacking and eliminating biological contaminants like mold and viruses. That's because a UV air purifier uses ultraviolet light in your air ducts to irradiate single-celled organisms like bacteriophages and virus cells. These systems can help you stay safe from illnesses and they can also eliminate odors as they kill mold cells and stop the growth of mold infestations.
What's Haunting Your Air?
Before you invest in an air purifier or an air filtration system, it's important to think about what's plaguing your air. If you're dealing with a lot of dust, debris, or pet dander, then an air filtration unit is going to do more to protect your air and keep you comfortable.
Though, if you're noticing that you keep getting sick, or you're nervous about illnesses infecting you and your family, then an air purifier is going to do a better job at this. Think about whether the odors you're detecting are mold, and whether or not you'd like to stop those spores from spreading throughout your home.
Need an air cleaner or air purifier? When you need it done right call Professional Heating & Air.