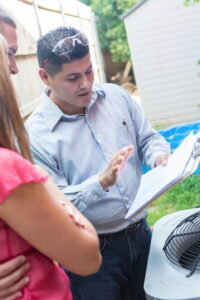 We're in the middle of September, so many homeowners are turning off their air conditioners thinking the hot weather is over. But as long-time Louisiana natives, we know that this is probably not true. We still get heatwaves deep in the fall and our air conditioners end up running for almost ten months throughout the year. That's why it's important to have your air conditioner repaired when it starts to have trouble.
Today we're going to talk about a few strategies to employ when you're in need of help with your air conditioning in Covington, LA and you're stuck waiting for a professional. Our team is fast and effective, but we still need to drive to your home and assess the situation. This means you're going to need to stay safe, comfortable, and happy until we get there.
Let's discuss a few ways to help you achieve that goal.
Ways to Stay Sane
Sometimes the heat can just be unbearable on a stressful day. Stress and heat don't mix, and when temperatures are quickly reaching 100 °, the last thing you want is to overheat. That's why the following tips should be able to help you while you wait for help.
Remember—step one is always calling our team for help, no matter how big the problem in your air conditioner is. We can help!
Stay Hydrated
Human beings require a lot of water, especially on hot days. You might notice that you're sweating a lot on one of these hot days, and if you're not constantly replenishing your water then you could be endangering your health. Make sure you drink plenty of water and try drinking some yummy fruit juices if you want to add a little extra excitement!
Note: Pets require plenty of water as well! Make sure you leave lots of cool, fresh water out for your pets.
Keep the Sunlight Out
While sunlight might feel warm and comforting on the beach or during the winter, it can be harmful during the summer. It carries a lot of heat with it, and the extra sunlight coming into your home is going to heat things up. Try using your curtains and shades to block the sunlight while you wait for help with your air conditioner. This should lower the temperature by a few degrees.
Utilize Fans
Fans are a great, low-energy way to decrease the temperature in your home a little bit to stay cool. Utilize box fans as well as ceiling fans to keep air circulating!
Limit Outdoor Activity
Summer and fall might be great seasons for outdoor activity, but on hot days homeowners need to be careful. Be sure to limit outdoor activity for you and your family, especially on the hottest days of the year. Too much physical activity can cause the human body to overheat, lose water, and suffer signs of heatstroke.
Remember, it's okay to take a break! Combine all of these tips together to stay cool and secure on a day when your air conditioner is malfunctioning. We'll be there soon to help out!
Call Professional Heating & Air today for comprehensive AC repair that's fast and effective.