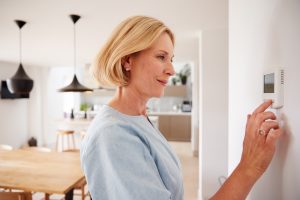 So the first day of fall has come and gone. You've probably played around with your heater a little bit to ensure it will work during the cooler temperatures ahead. Everyone has their own heater ritual when fall comes around. Perhaps you turn it way up to 80 degrees for a few minutes to ensure it produces a powerful flow of heat. Or, perhaps you just check to see it turns on at all—either way, it's up to you to responsibly start working with your heater to get your comfort levels right.
However, sometimes there are peculiar scents that waft through your vents. These scents can be concerning. Whether or not they are normal or require furnace repair in Hammond, LA is up to the opinion of a sensible HVAC technician. Luckily, that's who we are!
Keep reading as we talk about some of the smells a heater can make, and what you should be wary of.
How Serious Is the Problem?
If you've just turn your heater on and are encountering a slight burning smell, as long as the other appliances in your home are off, it's probably fine. This usually only lasts for a couple minutes and it's the product of your heater burning off the residual dust and debris that's gotten caught inside over the last few months. Luckily, you should be smelling the natural scent of your home again within minutes.
If not, or if perhaps this smell is a little more pungent like that of gas, then you need to turn the system off and call us. Gas companies add a chemical to natural gas called mercaptan which gives it the "rotten eggs" smell we're used to. This makes leaking gas easy to notice, which is a great idea because it can be a terribly dangerous fire hazard if left unchecked. Turn off your system and call us if you think there's a gas leak coming from your furnace.
Other Heater Smells
Listen, your heater could make numerous types of smells that you need to be aware of. Some of them signify the need for our help and others might signify that you need an air purifier or some other piece of equipment to make your home more comfortable. Let us explain.
Dirty Sock Smell
If you've got a heat pump, then you could be smelling a dirty sock scent that comes wafting in through your air handler or ducts. This usually indicates that there's a clog in the condensate line of the system and mold is beginning to grow. Don't be too alarmed, this is usually a pretty easy fix, but make sure you call us to get it addressed quickly.
Burning Smell
A couple seconds of bad smells when you run your heater the first time in the season is okay, but anything after that could be bad news. A constant, long-lasting burning smell could indicate a multitude of problems. Perhaps your heater is overheating, or it's burning too much material and poisoning your indoor air. Either way, call us to get it checked out.
Call Professional Heating & Air for fast and reliable heater repair. When you need it done right, call Professional Heating & Air.