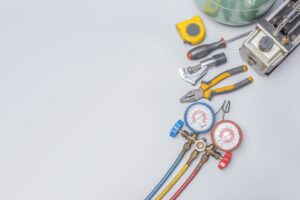 You've probably seen inverter air conditioners mentioned in many different places. In fact, we advertise that we sell inverter air conditioners right on our central AC page, and for good reason. These systems are powerful, efficient, and they're better than conventional central air conditioners in specific situations.
Is your home one of those situations that might be perfect for an inverter AC? Well, that depends! This blog post is for everyone that's investigating a new AC installation in Hammond, LA. If you're thinking about a heat pump or a ductless mini split, make sure you take a look at some of our other blog posts highlighting that technology.
For everyone else, or maybe for homeowners that are on a strict budget, this post will be about inverter air conditioners and why you might want to think about getting one installed!
Improved Efficiency With a Standard System
Central air conditioners have a problem. They run at either full power or not at all. While this works, especially for well-insulated homes and for areas that don't get too hot, for climates like ours it's not very efficient. After only about 10-15 minutes, you'll see your thermostat rise to the point where the central AC has to come back on to cool things down.
An inverter AC solves this problem with inverter technology. What this means is that the air conditioner turns on, runs at full power, and then can lower to a more efficient setting to keep your home cool, instead of shutting off directly. This allows your AC to efficiently keep your home comfortable without shutting on or off.
Great for Homes With Consistent Temperature Control
If you don't change the temperature very often on your thermostat, then an inverter AC might be perfect for you! These systems are great at keeping things consistently cool. They're also slightly more expensive than a conventional AC, so make sure that money is worth it when thinking about your options.
Some Smart Inverter Decisions
Many homeowners might have the money to invest in a heat pump system, but they already have a high-quality heating unit that they can rely on for the other seasons. So, in that case, investing in an inverter air conditioner can be a great way of getting efficient cooling during the spring, summer, and fall, but without the need to invest an extra thousand dollars or so in a system that just isn't necessary.
Also, think about dividing your spending into areas that can benefit from it! For instance, maybe instead of purchasing a heat pump, you invest half of your savings into an inverter air conditioner and the other half into solar panels for your home. Then, not only are you getting energy-efficient cooling, but you're consuming energy that comes directly from your home's power grid!
Of course, these will depend on your individual situation, but we love this part! Be creative and try to think of ways that an inverter AC might be helpful to your home and budget.
When you need it done right, call Professional Heating & Air.